Submit A Product
You must be logged in to submit a product.
Tips For Submitting Products For Advertisers/Product Creators/Marketers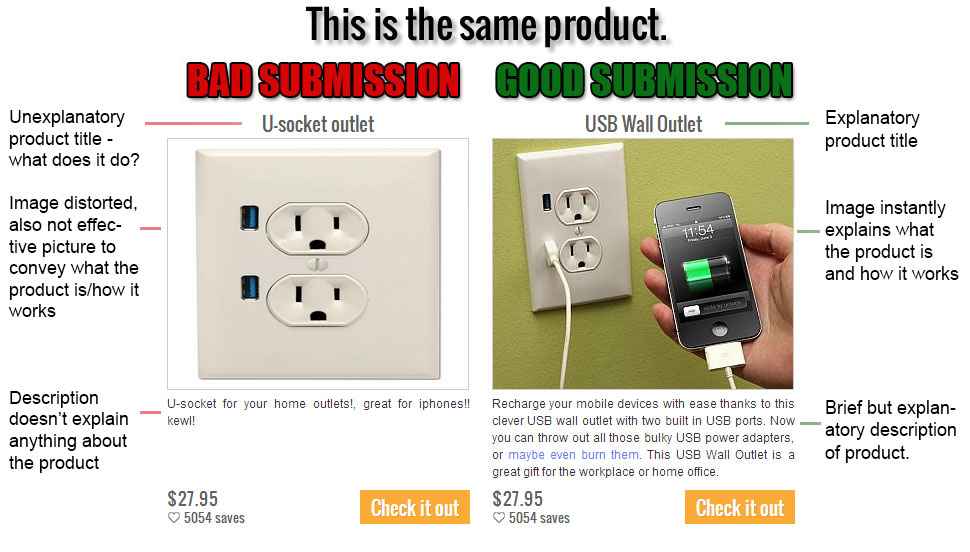 Tip #1
– Use good product photography
Use good product shots that clearly convey what the product is and/or how it works. Bonus points for properly zoomed in photos in
6:5 ratio
with a colorful background.
Tip #2 – Have well written descriptions
Write clear descriptions that get to the point and explain what the product is, what it does, and/or why you need it. Bonus points for wittiness and proper spelling and grammar.
Tip #3 – Use a short explanatory title
A simple title that explains what the product is is preferred over an extremely branded title. Try thinking about how you'd tell a someone about the product for the first time, would you say "You gotta check out the 'HyperShotanator 2000' " or would you say "You gotta check out this 'Ultra Fast Liquor Dispenser' "
Please be aware that we receive many submissions every single day and we do not have the time to respond to every submission. Even if we plan on publishing your submission, we typically cannot provide an ETA on when it will be published.